CLICK HERE TO VIEW SELECTION OF PRINTS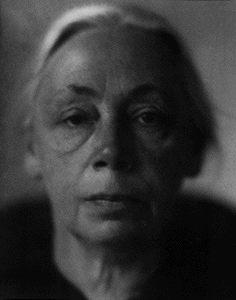 Kathe Kollwitz (1867-1945)

Kathe Kollwitz is considered by many to be one of the greatest draughtsmen and printmakers of all time. Often mentioned in discussions of German Expressionism, Kollwitz actually belonged to an earlier generation of artists. For perspective, consider that in 1917, she celebrated her fiftieth birthday with an exhibition at the famous Berlin gallery owned by Paul Cassirer.
Her father encouraged his daughter's talent for drawing and arranged for private instruction before sending her to art school for women in Berlin. This was quite progressive during the 1880s. She was influenced by Realists Max Klinger and Wilhelm Leibl and the works of Edvard Munch moved her to explore and confront emotionally charged subjects. Hunger and Death were daily visitors to her home because of her husband's medical practice in an impoverished section of Berlin. Kollwitz was a Socialist who wanted her art to have an effect on the way ordinary people viewed their world and hoped it would move people to action. Her son Peter died in WWI (her grandson Peter died in WWII) and as a result, Kollwitz suffered from extreme bouts of depression the rest of her life. Nonetheless, she stuck to her art during these times but became obsessed with the theme of Death.
Many consider her finest prints to be those executed between 1897-1908. After 1911, she virtually abandoned etching for lithography and sculpture. After 1920, she took up the woodcut inspired by the works of Ernst Barlach. Kollwitz is admired for her tremendous tonal range. She reworked her plates many times before she was satisfied with the effect.
When Hitler rose to power in 1933, she was forced to resign from the Berlin Akademie der Kunste but was never forbidden to work or officially classified as "Degenerate". In 1936, she was forbidden to exhibit and some of her works were removed from museums and galleries. In 1943, she evacuated Berlin for Mortizburg and died days before the end of the war hidden in a castle belonging to Prince Heinrich. She never saw the war end.