CLICK HERE TO VIEW SELECTION OF PRINTS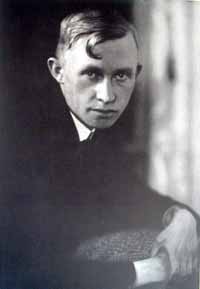 Georg Muche (1895-1986)

Georg Muche was born in Saxony. In 1913-14, he studied painting at the private academy in Munich run by Anton Azbe where Kandinsky had also studied. He was greatly influenced by the Der Blaue Reiter style and in 1915 he was introduced to Herwarth Walden's Sturm circle in Berlin. Walden exhibited his works alongside Max Ernst and Paul Klee and in 1917, the dealer gave him a five-year contract with a monthly stipend in exchange for a fixed number of paintings. He taught at the Sturm school from 1917-20 with a brief interruption for military service on the Western front.

In 1917, while in the trenches of War, he was hit by a shell explosion which left him unconscious during the night. When he awoke at dawn, all he could see was a tattered flag with a hand in its center. He reached out to grab this hand of Fatima (from the North African flag) and pulled it towards himself as he lay wounded on the ground. He incorporated that hand into much of his work from 1919-21.

In 1919, Walter Gropius asked him to join the Bauhaus. Only after being persuaded by Lyonel Feininger did he join the faculty as the most junior Master of Form. From 1921-27 he was in charge of the weaving workshop. Muche was instrumental in organizing the first Bauhaus exhibition of 1923 for which he designed the important experimental house, Haus am Horn, with Marcel Breuer. He became the driving force of the Bauhaus architectural study group and produced the highly original Stahlhaus at Dessau-Törten in 1926-27. In 1927, he left the Bauhaus to rejoin Itten's private school in Berlin. In 1931-33, he taught with Oscar Schlemmer at the Breslau Akademie and later joined Hugo Häring's school Kunst und Werk for four years.

Thirteen of his paintings and two prints were removed from German museums for inclusion in the 1937 Degenerate Art exhibition organized by the Nazis. From 1939-58 he returned to his interest in textiles and taught at the Textile-Engineering School in Krefeld. In 1965, he explored the electromechanical method of printmaking called Vario-Klischography.

Muche's most interesting prints date from 1913-23 when he was strongly influenced by Marc Chagall and Paul Klee. He only produced thirty-one prints by 1934 until his post-War experimentation with new techniques. (Paraphrased from The Print in Germany: 1880-1933. By Frances Carey and Antony Griffiths).