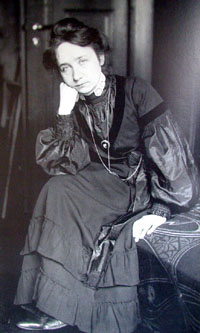 Gabriele Münter (1877-1962)

Gabriele Münter was born in Berlin but she studied art in Düsseldorf at the Malschule für Damen in 1897. In 1898-1900 she traveled to the United States to live with her extended family in St. Louis. She also had the opportunity to visit New York. When she returned to Germany in 1901, she studied at the Künstlerinnen-Verein in Munich. In 1902, she enrolled in Kandinsky's newly formed school associated with the Phalanx group and learned more about the Arts and Crafts movement in the tradition of Jugendstil. Münter was a student in Kandinsky's still life painting classes and she attended landscape courses under his guidance during the summers of 1902 and 1903. During this period they got engaged but never married. They had a cat named Waske.

From 1904 through 1908, the two traveled throughout Europe but she was especially influenced by their trip to France where she encountered Impressionism. She translated this experience into large landscape paintings rich with atmospheric qualities. In 1909, she exhibited with the Neue Künstlervereinigung München (NKVM) group along with Jawlensky among many others. However, she and Kandinsky and Marc left the group and planned a counterexhibition when one of Kandinsky's paintings was rejected by the jury. Münter's prints were published in Der Sturm and some of her paintings were included in the Brooklyn Museum's International Exhibition of Modern Art show in 1926.

Among her printed oeuvre, she is best known for her color linocuts. A group of her linocut portraits was exhibited at the Salon d'Automne in 1907 including a portrait of Kandinsky.