CLICK HERE TO VIEW SELECTION OF PRINTS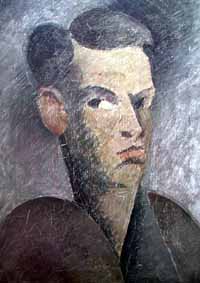 Oskar Schlemmer (1888-1943)

Oskar Schlemmer was born in Stuttgart. In 1906, he became one of Adolf Hoelzel's students at the Akademie. There he met Willi Baumeister whose treatment of the figure closely resembles Schlemmer's. In 1910, he moved to Berlin where he became involved in dance and the avant-garde theatre. In 1914, he exhibited paintings at the Cologne Werkbund, the Galerie Arnold in Dresden and the Sturm Gallery in Berlin. In 1914, he volunteered for military service and was wounded on both Fronts.

In 1916, he produced the Triadic Ballet whose stylized choreography and costumes brought him critical acclaim. In 1919, he achieved a remarkable personal style characterized by schematic rendering of impersonal human figures in space. In 1921, he choreographed Kokoschka's Mörder, Hoffnung der Frauen. In 1921, he joined the Bauhaus and quickly became one of its most influential teachers until his resignation in 1929.

After leaving the Bauhaus, he taught at the Breslau Akademie and worked on murals for the Folkwang Museum in Essen. The Akademie's forced closure took him to Berlin where he worked at the Vereinigte Staatsschulen for one year until he was dismissed in 1933. For the last decade of his life, together with George Muche and Baumeister, he worked for a paint manufacturer in Wuppertal.

Schlemmer's printed oeuvre was limited. With the exception of one etching and a few linocuts, it was confined entirely to lithography produced before 1931. The formal context of his printed work reflects his analytical concern with the use of pure line to convey the rhythm of the human figure. (Paraphrased from The Print in Germany: 1880-1933. By Frances Carey and Antony Griffiths).